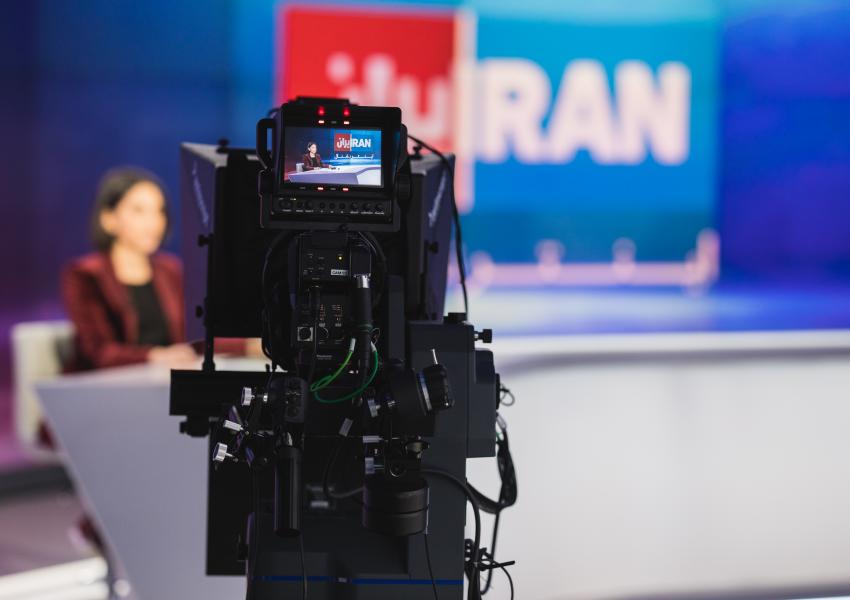 Our Mission
To be a window into Iran from the world, and a window from Iran to the world outside.
To provide a fair and balanced view of what happens inside Iran - and also to share news and views from all over the world for an Iranian population which needs a perspective on the world outside Iran's borders.
Our Promise
To serve and connect the 80 million people who live in Iran and the 10 million Iranians living outside the country - with bureaux around the world,  co-ordinated from our state-of-the-art broadcast facilities in London.
To provide balanced, and impartial news, about all for all Iranians, including all voices from across the political, social and business sectors inside Iran and around the world.
Our editorial guidelines are a clear charter with our audience and they can be seen here
To provide 24/7 news and current affairs delivered via satellite and terrestrial TV, social media, web and Video-on-Demand, streamed live here.
About Us
Iran International launched in May 2017. Its mix of rolling news, current affairs and documentaries, sport, lifestyle, health and technology, programmed to attract a wide audience, especially younger people.
Iran International is a privately-owned UK entity: the first of a family of channels aiming eventually to target other communities and other languages.
Watch Us
On Satellite
USA and Canada
Galaxy 19 Satellite at 97°W

Transponder 13K'
Standard Definition
Frequency: 11,960 MHz
Polarity: Vertical
SR: 22,000
FEC: 5/6
Middle East
Eutelsat E7B Satellite at 7°E

Transponder: C5
High Definition
Frequency: 11,304 MHz
Polarity: Horizontal
SR: 29,700
FEC: 2/3

Eutelsat E7A Satellite at 7°E

Transponder: C1
Standard Definition
Frequency: 11,221 MHz
Polarity: Horizontal
SR: 27,500
FEC: 3/4
Europe and Middle East
Eutelsat HB13C Satellite at 13°E

Transponder: 9
High Definition
Frequency: 11,373 MHz
Polarity: Horizontal
SR: 27,500
FEC: ¾
UK and Ireland
Iran International HD is available on the Sky platform on channel 780; Or you can tune manually on;
Astra 2G Satellite at 28.2°E

Transponder: 99
High Definition
Frequency: 11,612 MHz
Polarity: Horizontal
SR: 23,000
FEC: 2/3
Iran
Yahlive at 52.5°E

Transponder: 15
Available in High Definition and Standard Definition
Frequency: 11,996 MHz
Polarity: Vertical
SR: 27,500
FEC: 5/6
North Africa and Middle East
Arabsat Badr-6 at 26°E

Transponder: 4
High Definition
frequency:  11,785 MHz
Polarity: Vertical
SR: 27,500
FEC: 3/4
Online
You can watch Iran International here: https://iranintl.com/live