NetBlocks confirmed Wednesday evening that mobile internet connections in Iran had been disrupted from July 15 amid protests in the southwestern province of Khuzestan. The Twitter account of the United Kingdom-based Internet watchdog suggested the incident was ongoing.
Social media users had reported disruptions in their connections in Khuzestan since Thursday last week in many areas affected by protests over water shortages.
"[Regional] blocking of international data [gateways] is a new technic [sic] used by the Communications Infrastructure Company [of Iran]," London-based Iranian-British internet researcher, Nariman Gharib wrote in a tweet Thursday. "They reduce the speed in a region so much that [internet pages] cannot practically be accessed. Disruption mostly affects mobile Internet, not broadband."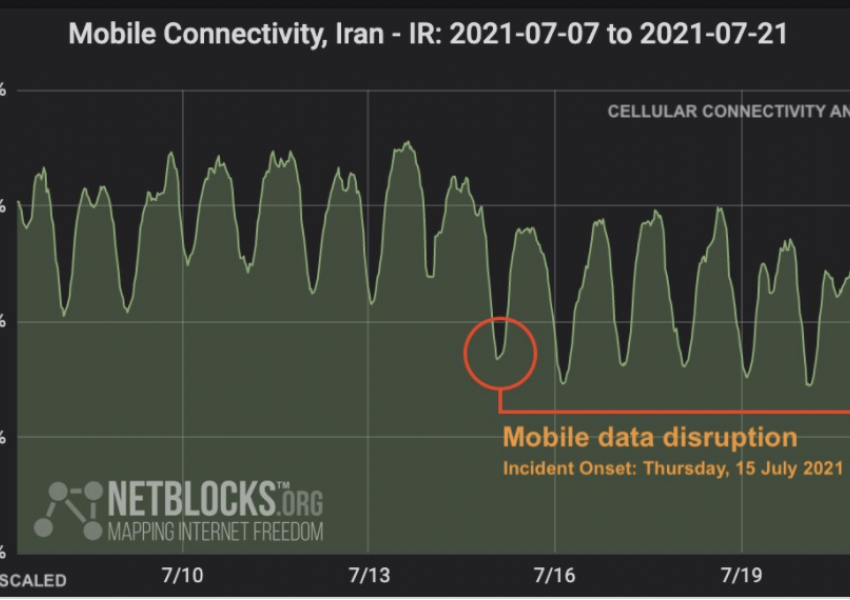 According to official figures published August, 94 percent of Iranians have access to mobile internet while only around 11 percent use broadband. Authorities often reduce connection quality and speed, mainly in mobile internet, to prevent the spreading of videos and photos of protests.
In November 2019, NetBlocks reported a major disruption of the Internet amid nationwide protests over an increase in fuel prices. On the first anniversary of the protests, NetBlocks reported a partial disruption in multiple networks, which it said corroborated user reports of issues accessing international services, including VPN services used to bypass blocking of content or specific sites.